Pipedrive Addons to automate your sales processes
A comprehensive list of Pipedrive addons for Marketing Automation & Email Marketing, Calling, Texting, Customer Support to improve your sales process.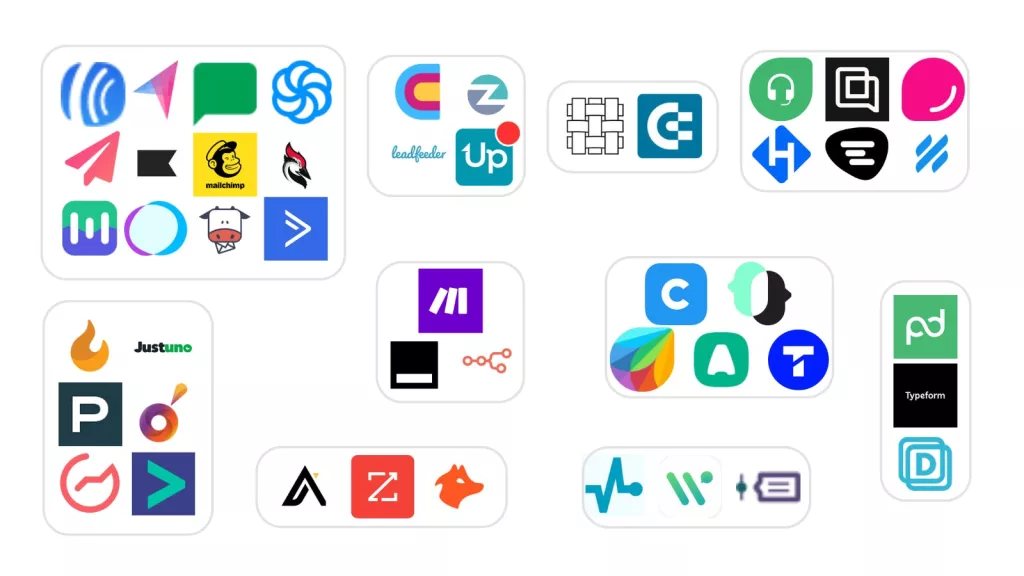 Introduction
Since 2019, I've been a Pipedrive power user and a top contributor to the Pipedrive business users group. I've worked with various Pipedrive addons over the years due to unique requirements from clients in a variety of sectors. This page contains a complete collection of Pipedrive add-ons that improve integrations, efficiency, and transparency while dealing with CRMs like Pipedrive.
While I created this list for Pipedrive, most of these products will also work with other CRMs like Hubspot, FreshSales, Close, and others. If you are still looking for a CRM, you should read this guide in which I outline the CRM selection methodology I created.
Disclosure: Most of the links in this article are affiliate links. It means that if you upgrade and make a purchase through these links, I will receive a commission at no additional cost to you. In fact, in some cases, you will have to pay less because of my partnerships with the SaaS provider.
Here's a complete guide to learn how to use Pipedrive.
You can also read my detailed review of Pipedrive.
Pipedrive Marketing Automation
Marketing Automation is a combination of comprehensive marketing over multiple channels.
It involves using multiple tools and means to reach the customer at the right time, at the right place, and with the right message.
For Marketing Automation to deliver positive results, you will have to use multiple tools together such that they complement each other.
These tools, across a variety of categories, are listed in this article below. You will find the following sub-categories relevant to Pipedrive Marketing Automation:
Automation
Customer & Sales Engagement
Email Marketing
Personalized SMS Marketing
Bulk SMS Marketing
WhatsApp Marketing
Browser Push Notifications
Automation
When your CRM cannot do things out of the box for you, you have to rely on Automation tools to make it do things like automate business processes, integrate with other apps, and achieve complex automation, many times across different SaaS applications.
For all things internal to Pipedrive, Pipedrive's own Workflow Automation capabilities are good enough. Check this article for some interesting Pipedrive Workflow Automation Examples.
When sending data (new leads) to Pipedrive, or when sending data out of Pipedrive (project management, ticketing, CPQs), tools like Zapier, Make/Integromat, and N8N are extremely useful and powerful. They also come in handy when trying to design powerful sales engagement sequences.
Here's a list of workflow automation examples that you can accomplish with Pipedrive's built-in Workflow Automation capabilities and with the above automation tools.
Pipedrive addons for Telephony – VoIP Calling and Sending Bulk and Personalized SMS
If you're using a CRM, you're going to call your prospects. Many times you're going to also text them. Many of you are also looking for bulk messaging solutions that work with Pipedrive.
I have provided a detailed comparison of calling apps for Pipedrive.
If you need advanced calling, texting, and voicemail capabilities, Aircall offers a robust solution. It also offers strong reporting capabilities, call routing, and IVR capabilities among many other things. Aircall, according to me, is the most promising calling integration with Pipedrive.
Simple Texting is an all-in-one text messaging service that is easy, fast, and affordable to send SMS marketing campaigns or engage in 1-on-1 conversations with customers.
Rated #1 by G2 for being simple to use, JustCall offers text (SMS bots, SMS automation, bulk messaging/SMS) and calling (voicemail, dialers, call forwarding) capabilities. The thing that works in JustCall's favor is its competitive pricing.
OpenPhone brings your business calls, texts, and contacts into one delightful app to help you work anywhere, across all your devices.
Grow your business by expanding beyond local territories with the help of CloudTalk's call center software. It offers all the standard features other telephony solutions offer in this category.
All these options are fairly competitive. You can evaluate the pricing for each option to see what works for you and for what features.
This article lists conversation intelligence apps for Pipedrive.
This article lists texting apps for Pipedrive.
Pipedrive addons for Customer & Sales Engagement
Tools for customer and sales engagement assist you in conveying the appropriate message to website visitors, gathering additional data from prospects, and improving your comprehension of current clients. The following is a list of several of these customer engagement/marketing automation technologies for a CRM like Pipedrive, along with its one-line pitch:
Pipedrive addons for WhatsApp Integration
With the advent of WhatsApp for business communication, you can't ignore this channel of communication with your prospects, both for 1:1 correspondences, automated acknowledgments, and marketing communication.
You can create a 1-click integration with your WhatsApp accounts by creating clickable links that, when clicked or tapped, open a dialog box with the person in your WhatsApp application on your phone or your computer. This can be easily accomplished using automation tools like Make/Integromat as shown in the picture below.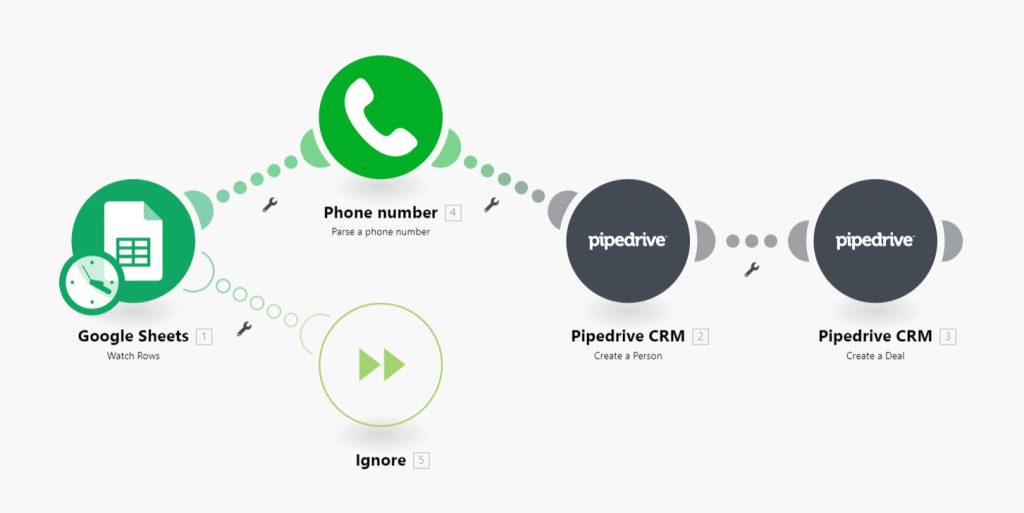 All these tools allow you to send automated messages using WhatsApp. Trengo is in many ways like Zendesk, a social listening tool, and a customer support platform.
While there are many tools that help you talk to your customers, Timelines.ai helps you record conversations with your customers in one place, your CRM. You can define the frequency with which your conversations with prospects on WhatsApp will be synced back to Pipedrive.
I have written about Pipedrive and WhatsApp integration in detail.
Pipedrive addons for Leads assignment
If you're looking for a deep dive on how to assign deals in Pipedrive in an automated way, please refer to this article where I have covered different ways to do it.
You can assign deals/leads in Pipedrive using Pipedrive Automation if the rules to assign deals/leads are simple enough.
You can, for instance, assign all deals from California to Person A, and all deals from Florida to Person B.
Or, you can assign all deals for product X to person A, and all deals for product Y or product Z to person B.
Mapsly
If you're looking to assign leads based on granular geographical locations, you can't go wrong with Mapsly. They have a fantastic support team to help you craft geographical territories and define the rules for leads assignment using Mapsly.
RouterJet
If you want to assign leads in a round-robin manner, you should check out RouterJet. You can create as many distribution pools as you want, but you need to ensure that all the pools are MECE (mutually exclusive, collectively exhaustive).
Pipedrive addons for Email Marketing
You can send event-based emails using Pipedrive Automation and email templates. Pipedrive is also developing its Campaigns feature to make this function more powerful for Pipedrive users.
One of the most exciting tools I have found in the email marketing space is Mailmodo. Think of it as a combination of Mailchimp and Typeform. The advantage of Mailmodo is that you can send AMP emails to your subscribers with Gmail accounts and get users to respond to questions without ever leaving their email client. You can then capture the responses to these questions using Zapier or Make/Integromat.
Outfunnel started as a glue between Mailchimp and Pipedrive but has evolved much more beyond that. It allows you to send drip emails to your contacts, track their website and email activity, and score leads based on their activity on your website and their interactions with your emails. It has, over time, added support for more email service providers and CRMs, and even with Calendly. Outfunnel has now added even more advanced features for Lead Scoring.
Popular Email Marketing Platforms
Klaviyo: Turn hard-earned customer data into hard-working texts and email marketing.
Mailchimp: Win over new and repeat customers by sending emails and automation from a marketing platform that has expert advice built in.
ActiveCampaign: The email marketing, marketing automation, and CRM tools you need to create incredible customer experiences.
Brevo (formerly Sendinblue): the smartest and most intuitive platform for growing businesses. Thrive digitally as we guide your business with the right marketing & sales tools.
AWeber: Grow, sell, and engage with your audience—all from a single platform
MailerLite: Digital marketing tools to grow your audience faster and drive revenue smarter.
Lesser-known Email Marketing Platforms
Email Marketing Platforms for Cold Emailing with Pipedrive
Klenty: The Sales Engagement Platform that gets more replies and meetings booked.
Lemlist: Personalize cold emails, automate follow-ups, and engage with leads across all channels. lemlist is your sales automation and cold email software in one.
Outplay: Personalize your outreach at scale with a sales engagement platform your team will love.
Pipedrive addons for setting up a Data Pipeline
Coupler allows you to build data pipelines between several SaaS applications and storage solutions like Google Sheets, Google Drive, and BigQuery. I have written in detail about exporting data from Pipedrive to Google Sheets.
Flatly, like Coupler, allows you to build data pipelines between your SaaS applications and your storage solutions.
Customer Support
If you're also a B2C company or are an e-commerce company, you will need a customer service platform to go along with your Pipedrive account. Following are some options that you should consider when evaluating the ticketing platform to go ahead with:
Trengo: Omnichannel communication platform that unifies all messaging channels into one single view.
Helpscout: Manage all your customer conversations in one powerful platform that feels just like your inbox.
Helpwise: Convert Customer Queries into Customer Delight.
Gorgias: Gorgias is the e-commerce helpdesk that turns your customer service into a profit center.
Freshdesk: Engage in more meaningful conversations every day, across every channel, with every customer.
DelightChat: Increase Sales & Manage Support Effortlessly.
Pipedrive is working on its own Customer Support/Ticketing feature that you can evaluate.
Miscellaneous
Dealing with duplicate contacts or company records can be a nightmare. There are 2 possible approaches to the menace which is data duplication.
Check if records exist before creating them
Remove duplicates intelligently before breaking things
For the first approach, you will have to add steps to your Make/Integromat scenario.
For the second approach, the manual way to deal with duplicates would be to use Pipedrive's duplicate detection feature, one by one, for each set of duplicate records.
The smarter way to deal with this, though, would be to use a tool like Dedupely which allows you to create smart rules for duplicate detection and remedy.
If you want to collect information from your customers, Typeform offers a great user experience. Also because Typeform has taken on the burden of educating users on how to fill forms without abandoning forms halfway through. Another advantage of using Typeform is that you can pass hidden fields (person ID, deal ID, email, etc.) with the form URL. Upon form submission, hidden fields allow you to tie the responses back to your data in your CRM.
If you're looking for a Typeform alternative, check out Tripetto.
Pipedrive addons for Lead Generation
LeadFeeder shows you the companies that visit your website, how they discovered you, and what they're interested in. All of this with the help of direct integration with Pipedrive.
UpLead helps you build prospecting lists free from dodgy data, bad-fit buyers, and low-qualified leads.
Zopto helps LinkedIn users simplify prospecting efforts and grow their business with their advanced LinkedIn automation software.
Clay
Clay claims to help you find leads from anywhere on the internet. Clay connects with 50+ integrations to automatically pull names, emails, tech stack, open roles, and so much more. Clay offers a generous free plan to try out its features and integrates with Hubspot and Pipedrive too.
Pipedrive addons for Data Enrichment
There are many data enrichment tools available in the market today, which, given one identifier like email or phone, help you find all the relevant information about a person. They integrate with your CRMs and Zapier and Make/Integromat too. The core differentiator between them is the quality of the data and the price point. Some of these tools, with their 1-line pitch, are listed below:
Pipedrive addons for Documents
If you're actively involved in sales, CPQ (configure, price, quote) solutions are going to be a core requirement for your day-to-day needs. These solutions not only take care of all the formalities when signing documents, but they also help you track where recipients of your documents are in the process of signing the documents.
Pipedrive's own Smart Docs add-on provides all the basic features of getting e-signed documents in order. You can have shared document templates and integrate them with storage solutions like Google Drive.
PandaDoc helps you create, manage, and e-Sign docs with ease, and 40% faster. They also help you track where in the process your prospect is when they have been sent a document to sign. Think of it as a pipeline/funnel but for the process of signing the document. I have not seen a better add-on that integrates with Pipedrive than PandaDoc does for documents.
Other tools in this space, along with their 1-line pitch, are:
Better Proposals: create modern, web-based business proposals in less than 30 minutes
DocuSign: Everything you need to make agreements happen.
SignEasy: The leading eSignature platform to sign, send, and manage critical business agreements easily.
HelloSign: Seamlessly send and request signatures.
Summary
This article has been the result of months of research and years of experience with Pipedrive and my clients. I will keep adding further to this list over time, but this should be a great starting point for anybody looking to up their Pipedrive or CRM game.