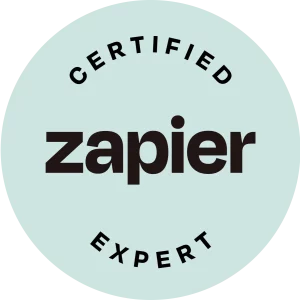 Hire a Certified Zapier Expert
I am a Certified Zapier Expert and I help businesses automate their processes using Zapier.
Business functions that a Zapier Expert like me can help you with
Sales
Automate adding of leads directly to CRM
Operations
Sync data across multiple systems
Human Resources
Automate admin and office process
What can you automate in your business?
Use my skills as a business automation expert to make your SaaS applications talk to one another.
Save files from emails/orders
Store digital assets in a cloud storage solution like Google Drive, Dropbox, etc.
Automate spaced tasks/activities creation
Create the next task/activity in a follow-up sequence at regular intervals to set up the cadence.
Capture custom events using webhooks
Use webhooks to automate tasks that aren't a part of the standard offering of the SaaS platform.
Schedule tasks at regular intervals
Set up a set of tasks to repeat every hour, every day, or every week to automate mundane tasks that have a standard operating procedure.
Set up notifications for RSS feed updates
Notify time-sensitive RSS feed updates using email or text by setting up an RSS feed in Zapier which is triggered by webhooks.
Backup data from SaaS platforms periodically
Use Flatly or Coupler to periodically back up your data from SaaS platforms in destinations like Google Drive, Big Query, AWS, etc.
Create order fulfillment requests
Send new order information to order management systems and fulfillment centers from Shopify, WooCommerce, etc.
Send conversion events to ad platforms
Notify intermediate lead conversion events back to ad platforms like FB to ads improve ads targeting and audience building.
Record event and calendar bookings
Log meetings/cancellations in a Google Sheets workbook and in a shared calendar for everyone to be on the same page.
Send new leads to CRM
Facebook Lead Gen, Website Contact Forms, Chatbots, Typeform, etc. to Pipedrive, Hubspot, FreshSales, Salesforce, etc.
Add subscribers to marketing lists
Lead magnets, website popups, Lead Gen, Contact Forms, Chatbots, etc. to Klaviyo, Mailchimp, ActiveCampaign, MailerLite, etc.
Report email subscriber activity to CRM
Send user activity events like email opens, email clicks, website visitors, product checkouts, etc. to CRM and to salespeople.
Learn the levels of Zapier Adoption
Here are the different levels of how Zapier adoption evolves in a typical setup.
1
Triggers and Actions available in Zapier
Use publicly available triggers and actions to automate processes by sending
2
Private, invite-only Zapier integrations
Explore private or WIP integrations to find available triggers and actions
3
Using Webhooks
Use webhooks available inside the SaaS application to trigger events and automation
4
Using API endpoints
Make custom API calls to trigger workflows and add actions to the workflow
5
Using Email Parsing
Parse emails to extract data that can be reused to send to new applications
6
Using Alternatives
Explore other automation platforms like Make/Integromat, n8n, or Craftar.
Contact
The quickest way to proceed is to schedule a call.