A Beginner's Guide to Nocode in 2023
This is a short Beginner's guide to Nocode for learners who are looking to bring their ideas to life by building products faster.
Here's a quick guide to help anybody who is keen on getting started with Nocode in 2023 and is looking for a Beginner's Guide to Nocode.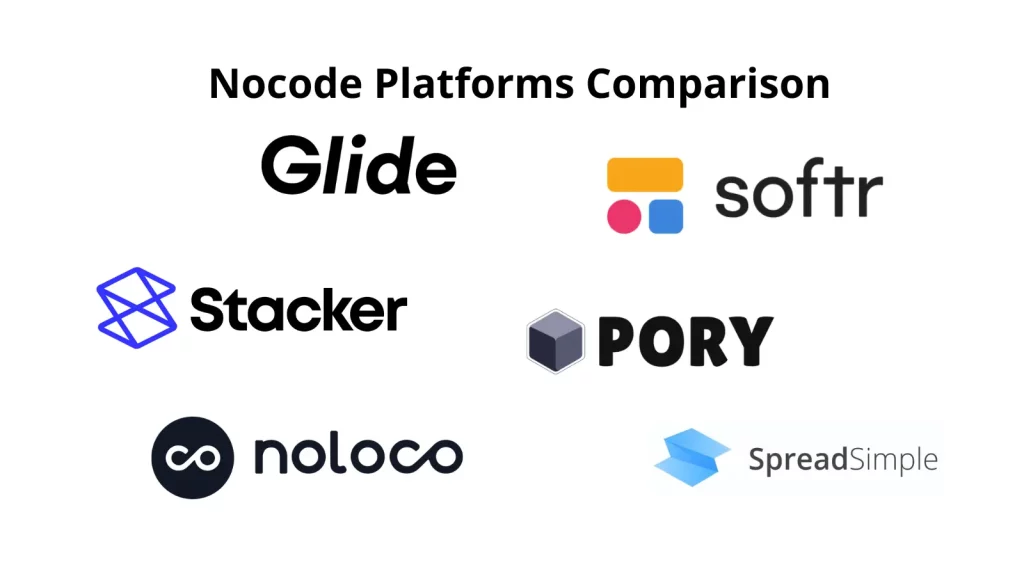 What is the big deal about Nocode?
So you've heard of this new thing called NoCode and you're still not sure what you can do with it?
You're wondering if it's for real or a joke.
At first, you didn't take it seriously.
Then you thought: "What a cool idea. I can see why this is getting so much attention. I should probably learn more about NoCode."
But ….
Here's a Beginner's Guide to Nocode
How can one get started with NoCode?
I can probably break this guide down into a few high-level things you need to do:
Picking the right platform
There are many NoCode platforms available today, but there are two broad categories of NoCode platforms that you should know:
Website builders (static websites, blogs, eCommerce, landing pages)
If you want to build a website, I would suggest starting with Softr or Framer.
Application builders (both mobile and web applications)
Glide Apps – the easiest to get started with, to build PWAs from Google Sheets
Stacker – internal apps builder, using Google Sheets and Airtable
Noloco – Instantly create customer portals, partner apps & internal tools from your Airtable or Google Sheets
FlutterFlow – the most versatile app builder
Adalo – a drag-and-drop web and mobile app builder
Bravo Studio – build mobile apps from your Figma designs
Thunkable – like Adalo, but with account-level billing
Budibase – clean web apps builder, ideal for internal tools
Bubble – the most powerful app builder in the NoCode space
If you want to build an app, I would suggest starting with Glide Apps.
Here's a comparison between platforms that allow you to build on top of Google Sheets or Airtable.
More specifically, here's a comparison between Glide and Softr.
Resources to Get Acquainted
Even before you start building your product, it would be a great idea to go through a few videos that show you around the platform.
Platform's YouTube Channel
Usually, each NoCode platform has its own YouTube channel where they have curated playlists to get you acquainted with a new thing you wish to learn. Webflow's YouTube channel is a great example of curated playlists covering an overview of the platform, building a product for a problem statement, How To videos, etc.
Experts' YouTube Channel
There are also NoCode platform experts that run active YouTube channels where they spill the beans about how they do certain things on the platform. Webflow, Bubble, and Glide Apps – each has such experts giving away valuable information on YouTube.
Reverse Engineer Templates
Once familiar with the platform, pick up the free templates from the NoCode platform's Template library.
Copy it to your account.
Look under the hood.
Get familiar with where the controls are.
Change little things and see how the output changes.
See how each building block is configured.
Check each screen's hierarchy.
Ideas to Build
Once you have selected a platform, the next step is to find ideas to build.
If you chose to build a website, pick up any website, landing page, etc. on the internet and try to build it with the platform you chose.
If you chose to build an app, the following are a few great ideas to cover a wide range of functionalities.
Here's a list 15+ Custom software ideas to build with Nocode Platforms.
Here's a list of apps that I have built for my clients using Glide Apps.
Finding Help
Each NoCode platform has a thriving community where the platform experts and the platform team are helping anybody with questions. It's a great place to learn and get inspiration from others too. Besides, the founders of each platform are listening closely to the conversations on their platform community.
If you're still stuck, each platform has an Experts directory who you can get in touch with.
Parting thoughts on getting started in Nocode
NoCode is an exciting space. Amidst the chatter, I hope this guide helps you find your own way in this jungle of information and options. It worked for me, and it may or may not work for you.
And hey!
When you build something, don't hesitate to show it to the world.
And, if you need more motivation to get started, read how you can monetize your expertise in NoCode and build a valuable income stream.
PS: I used Copy.ai to generate the introduction of this blog post. Try it out if you liked it.
PS: This post contains a number of affiliate links. If you sign up for a service listed in this post, the service provider may choose to share a part of the revenue with me, at no additional cost to you.